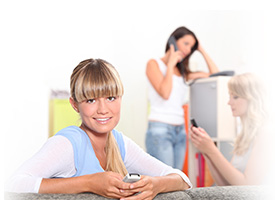 Sharing an apartment: The good, the bad, and the handy
---
Maybe you've been fast friends for ages and always talked about moving in together. Maybe you like having someone to come home to and share your stories with. Maybe you're simply careful with your finances and want to save money. Or maybe you're one of those people who love meeting new people and are always up for a new experience.
Whatever your reasons for wanting to share your apartment or house, a roommate can have a big impact on your life. It can be a wonderful experience, but it could also get you into trouble. The key is to know what you're getting into and work out each person's expectations and responsibilities.
Read on to help make the experience or sharing your home a positive one.
Is sharing accommodation right for you? Benefits and drawbacks
Getting one or more roommates to share the rent and other expenses can offer some great advantages. For example, together you may be able to afford a larger apartment or house, or even rent in a better part of town.
There are other non-financial benefits, too. If you get along well, you may also find yourself sharing more than just the rent: you'll have someone to share your day with, cook a meal with, and keep loneliness away; you may even start moving in each other's social circles.
When you share an apartment, you'll have more disposable income for play, travel or your future, but you'll have to make concessions, too.
You won't have as much privacy, of course. When you come home, you may want to have a quiet moment to yourself, or simply relax or entertain some friends: your roommate may have other plans for the evening.
Schedules of work and play may differ: when you want to sleep, your roommate may just be coming home and will want to cook or watch TV, for example. One of you may be neater and cleaner than the other, and this may cause conflict.
The person(s) you live with may have a decorating preference that's different from yours, or a lifestyle that clashes with yours. That's not necessarily a deal-breaker – it just means you have to work a little harder at setting boundaries.
Money may also make things more complicated, especially if one of you is sometimes or habitually late in paying bills or the rent. Make sure the expectations are clearly laid out and that you protect your own credit rating.
Sharing accommodation: where to find a roommate
Now that you've decided to share your accommodation, how do you go about finding a roommate?
First, start by spreading the word with friends and acquaintances. If you're active on social media, use Facebook or Twitter to advertise that you're looking for someone to share a house or apartment with. There are several sites online where you can sign up to find a roommate, or you can try more traditional routes such as community centres, local newspapers, or university housing centres.
If you've already found your place, add plenty of pictures of the apartment and a brief note about you and what kind of roommate you're looking for.
Asking the right questions
Living with someone is different from knowing them soci ally, so whether you know the person or not, be prepared to share information about yourself and your expectations.
Start with these questions, and make it a conversation rather than an inquisition!
How long a period are you looking to share for?
Have you ever shared accommodation before?
Why did you move out of your last place?
What were your pet peeves about your previous roommate?
Are you working or otherwise financially secure?
What's your work/study schedule like?
Do you have a pet?
Do you smoke or do you have allergies?
Will you have a lot of friends over or parties?
Do you have a boyfriend or girlfriend who'll be coming over a lot?
Lastly, make sure you both discuss if you want to co-sign a lease, and if you can obtain references from previous landlords and roommates.
Sharing the bills, and more!
What if your roommate fails to pay a bill or his/her half of the rent? Will your credit rating suffer because of another person's lapses?
You may be great friends as well as roommates, but you have to be sure to protect yourself financially in case things go sour.
To do this, you should both sign individual leases, not a joint-lease. With a joint-lease, you'll be liable for each other, and the landlord will be able to pursue not just the person who doesn't pay their share of the rent, but also the second person on the joint-lease.
Regulations are slightly different depending on the province you live in, so be sure to check with your province's rental board for advice before signing the lease.
Don't let your credit rating suffer from the actions of a roommate. Discuss how you will be splitting the bills. The renter whose name appears on the utility bills or phone bills is also responsible for the payments, even if you've agreed to split the cost.
Ask about each other's habits:
Does one of you always have the heat on really high, and so willing to pay a little more?
If your roommate will have guests staying over often, how will they contribute?
Who will take over the bills if one of you is on vacation and not using the services?
Will you each be buying all of your own groceries or sharing some items?
Some roommates set up a special "jar" for household items that are shared, such as dish soap or cleaning products. There are also lots of website that specialize in offering tracking sheets for roommates sharing bills, such as www.splitabill.com or www.billsarein.com, and even apps for smartphones.
Making the roommate relationship work
Already found your roommate? Often the things you love about a person will be the things that start to annoy you, so begin your relationship with a healthy dose of patience and even more respect for each other.
Follow these tips for a good relationship:
Work out a simple weekly plan of chores, so everyone participates to keeping the place clean, and alternate the schedule so no one is stuck with "the worst chore".
Discuss what happens if someone is late on the bills, and talk about accountability.
Don't buy furniture together - each of you should buy an individual item, as financially fair as possible.
If the rooms are not equal in size or design ( e.g. one has a window as the other one doesn't), work out how to make it equitable, perhaps with one person paying slightly more than the other.
Respect each other's privacy and property: don't mess with what's not yours, and leave a room as you found it.
Discuss in advance if you'll be sharing the cooking and the groceries.
To protect your relationship, make all your agreements in writing, so there won't be any misunderstandings.
Keeping the peace
The most important thing is to keep the lines of communication open, whatever happens. If conflict breaks out, stay calm and deal with the issue at hand; don't bottle everything up and have it out in one discussion.
Make a list of the issues that bother you and ask yourselves what each of you can do to solve the problem together. Most often, a good conversation will resolve the majority of issues. If it doesn't, try to bring in a neutral party to help you understand each other.
If you make a commitment to make things works, do everything you can to hold up your end of the bargain. It's easier to try to live peacefully with your roommate than to break a lease and start all over again.
Getting a roommate can be a wonderful experience: the key is to be flexible and patient, and to keep the lines of communication open.