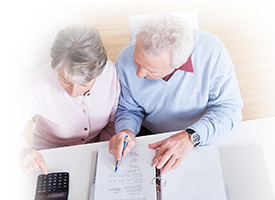 Finding the perfect rented retirement property for your golden years
---
We all have dreams about a simple and active retirement free from stress, and our home should support our lifestyle both in early and later retirement. As we age, our needs change, but it's possible to find the perfect rented retirement home to enjoy retirement as much as our working life.
Rented retirement property offers many advantages, as they are adapted specifically to the needs of retirees to help support their lifestyle – whatever that is. In our later years, it can far more advantageous to rent and keep it simple!
Residences for seniors offer not just peace of mind but also security and a social setting that can respond to our needs, and renting is a good option to avoid the hassles of ownership.
Taking that next step can be a positive and exciting experience. What should you look for when searching for a retirement property? RentersPages.com has some tips to help simplify your move to a rented residence and help you retire in style.
Renting a residence: what to consider
Studies show that happiness increases after middle age, so there's no reason not to enjoy your rented retirement living fully!
Retirement communities are for people of any age from 55 onwards, and are designed to help you make the most of your golden years. Many retirees are financially secure but may face increased challenges or preoccupations about safety, family moving away, healthcare, and loneliness. Renting an apartment in a residence can offer solutions and make all the difference.
Consider your future needs, the levels of care you might need, as well as your lifestyle preferences. What are the things that are important to you? How much support can you expect from families and friends in future years? You may also want to find out what kind of services you can obtain as a senior citizen in your town or community. Finally, how much time – and what kind of financial resources – do you have to make a decision about your retirement housing?
---
Tops tips to find the perfect retirement housing
When it comes to visiting and choosing rented retirement property, you should consider above all your current as well as your future needs. As your lifestyle changes, you want your retirement property to offer as much or as little support as you may need as a senior.
---
Start looking before you need to!
Start planning well in advance – the more time you have to research your next step, the better off you'll be. It's better to make the transition slowly at your own pace than when you have no other option and urgency dictates your choice.
When you're healthy and independent, it's much easier to get used to a new environment, and you'll be able to take advantage of all that retirement living has to offer. Additional care will be there when and if you need it.
---
Sort out your finances
Speak to your banker and sort out your financial situation, so you know what you can afford. Plan out your finances carefully to simplify the decision-making process when you start visiting retirement housing.
---
Discuss your plans with your family
Families can sometimes find the transition harder than retirees. Speak to them first to give them time to adjust and give you feedback. Get them involved in the process. They may suggest that you look for residential housing close to them, but remember that your needs come first!
---
Use technology!
Technology changes quickly, but the internet is still one of the best ways to research housing. Start your search on RentersPages.com.
---
Find out what amenities and recreation facilities are available
One of the best advantages of renting your retirement housing are the amenities and recreation facilities such as pools, gyms, tennis courts, restaurants and outings. When you visit, ask about the social and health-related activities organized by the residence, and think about how they fit in with your lifestyle.
---
Find out what kind of support and levels of care are available
Consider what kind of residential care is available, and if the assistance will allow you to continue to enjoy your life with dignity. Ask about both short-term and long-term arrangements. Many residences for seniors offer the full gamut from independent living and semi-independent to assisted living services. Care services will help you to continue to enjoy your active lifestyle. Ask about onsite medication and doctor visits, to save you from having to travel every time you wish to consult.
---
Get the complete low-down on costs
Retirement living costs vary from residence to residence, and depend on the types of amenities, services and care offered. You'll have to budget your monthly rent, housing insurance if it's not covered by the residence, and meals. You may also want to look into costs for housekeeping if you need support, laundry use, and transportation. Make sure you keep some money in the kitty for those social activities!
When you visit retirement homes, ask about additional services and how much they cost. Get a breakdown for medical care and extra services as well, even if you don't need them yet. You'll have to plan ahead, and make sure you can afford the long-term.
---
Tour the residence
When you visit, bring a camera and take notes. Visit the common areas and restaurants. Tour the laundry facilities to make sure they're adequate. Try out the lifts and view the gardens. You may have to downsize some of your furniture, so bring a tape measure to see what will fit. Look for safety features like rails, ramps, wide doorways, and emergency alert buttons in the units.
---
Meet the staff, volunteers, and administrators
Staff and residents add a lot to the atmosphere of a residence. Ask about the ratio of residents to staff and try to meet as many people as you can, and find out about their backgrounds – are they experienced in their field, do they have the credentials to run the residence well?
---
Talk to residents
Residences can be very sociable places. There will often be a group of volunteers willing to welcome new potential residents and speak to them about their experience there. You'll hopefully have lots of time to make new acquaintances and friends, so listen to what they have to say about the place.
Ask about their satisfaction, activities and backgrounds, and consider if you'll fit in. Ask about how well the staff responds to their needs. Good people around you will often become more important than the size or layout of your unit.
---
Check out the neighbourhood
Decide if your neighbourhood is important – are you a homebody or do you love to explore? You'll want easy access to transportation at least, and possibly shops and restaurants for visitors. If you love to walk, find out if the neighbourhood is safe, hilly, and interesting.
---
Find out what kind of restrictions are in place
Find out if the residence has any restrictions, like pets, for example. Others ban smoking (even in your own unit) or barbecuing (despite that lovely garden terrace!). Others still will have restrictions on parking, or will include other rules that may or may not suit you. Be sure to ask about all the restrictions and residence rules when you visit.
---
Make a shortlist
Retirement housing varies, so to keep your research simple, follow these guidelines and decide what is most important to you. Where can you be flexible? What are your must-haves? Project into the future about what kind of services you may need. Your budget will naturally influence your choice, too.
There's no ultimate recipe for success, but whatever your strategy and choice, you have to feel welcome and feel good about your new home!
If you need some encouragement before you start, check out What Color Is Your Parachute? for Retirement: Planning a Prosperous, Healthy, and Happy Future by John Eric Nelson and Richard Nelson Bolles.
Happy hunting!