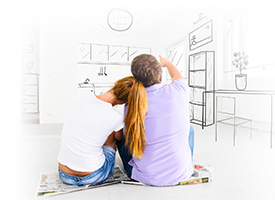 Choosing your Rental Apartment: Furnished or Non-Furnished?
---
There are lots of choices when you're looking to rent an apartment. One of the choices you'll have to make when you start your search is whether you want a furnished or an unfurnished apartment. Furnished and unfurnished apartments usually cater to tenants with different needs.
Furnished vs. unfurnished
Unfurnished apartments are usually long-term rentals, while furnished apartments are intended usually for short-term lets, where the tenant won't be staying long and doesn't need to own the furniture.
Furnished apartments usually include all the basic necessities, such as a bed, sofa, tables and chairs, kitchen appliances, and sometimes TVs, bookshelves and wardrobes. How the landlord chooses to furnish the apartment, though, is up to their own discretion.
Unfurnished apartments:
advantages
Renting an unfurnished apartment has its own rewards, as you'll be able to decorate to your heart's content, and you'll be surrounded by the furniture and objects you love.
Buying furniture is an investment and moving can be expensive, so consider staying for longer periods if you're planning on getting an unfurnished apartment. Give some thought to how long you plan on staying, and try to work out how much it would cost you if you had to buy everything new. A furnished apartment may still work out less expensive than buying furniture for a whole apartment.
Rental costs will vary for both furnished and unfurnished apartments. Generally, unfurnished units are cheaper than furnished ones: landlords may have invested a lot of money to decorate a furnished apartment and have to get their money's worth from the rental cost.
Furnished apartments:
advantages
Some tenants really appreciate having their apartment already kitted out, especially those happy to skip the visits to IKEA. If you're planning a short stay, or if you prefer not to have to shell out money for a complete suite of furniture for an apartment, a furnished apartment may be for you.
If the apartment has been rented out to short-stay tenants in the past, in general, you can expect a higher standard of furniture quality and design. In-between every tenant, the landlord will often repaint the walls and replace past-its-sell-by-date furniture, so the apartment is most likely to be in a very good condition.
The more bells & whistles when it comes to the furniture in a short-term rental apartment, however, the higher the cost, in most cases.
One thing to consider with furnished apartments is that though they may typically be more expensive than unfurnished apartments, you'll save on moving expenses.
If you've found your dream apartment, but it comes furnished, you'll have to make some tough choices if you already have your own furniture. You could try to negotiate with your landlord and ask to have the furniture removed, but this will most likely come at a cost, since the landlord will have to find a place to store the furniture while you're the tenant. You could also look at storage or self-storage options for your own furniture and use the furniture included in the apartment.
Other considerations
The Lease Agreement
If you're renting a furnished apartment, you have to check the lease agreement to make sure that the furniture that is included is itemized and its condition is listed. Protect yourself and your damage deposit by taking photos of the furniture before you move in.
If you're renting a furnished apartment, make sure that the utilities are included in the lease agreement. It will be easier than setting up accounts (heating, hot water, electricity, cable, internet). If you need a "proof of residence", use your lease agreement.
Leaving furniture when you move out
We've all done it before, left a bookshelf, a TV stand or another item of furniture in our apartment when we move out, simply because we don't need it in our new apartment or we can't be bothered to move out.
Be aware, however, that if you don't have the landlord's agreement in writing to leave it, you may have a problem down the line: the landlord may charge you for removing your furniture, or the new tenant could take legal action for "storing" your furniture, which is blocking the use of some area of the apartment he or she is renting and paying for.
Rental insurance
Once you've already paid for the moving costs, the deposit, various admin fees, and your first month of rent, you may think about skipping the rental insurance. Don't.
Rental insurance will cover you even as a tenant, for a relatively small price in case of damage or theft. It's one thing to damage your own property, but without rental insurance, you may be liable for your neighbour's property or the apartment building itself in case of a fire, broken pipe, or other emergency. If you're renting a furnished apartment, you're also responsible for whatever's in the lease – the property owner's furniture.
Save yourself the hassle and plan on rental insurance whether you're renting a furnished or unfurnished apartment.