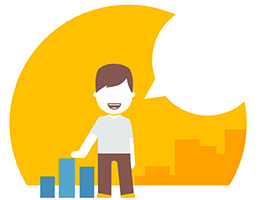 TOP 10 QUESTIONS ABOUT RENTAL INSURANCE
---
Tenant insurance is for every renter!
So you've negotiated with the landlord and signed on the dotted line: the apartment is yours and you're moving in!
Your very next step should be to obtain tenant insurance to protect yourself and your belongings.
It doesn't take a big stretch of the imagination to think of scenarios where your rental insurance will come in handy. Imagine a break-in, or a broken pipe in your bathroom or a fire that starts accidentally and causes damage to the building or neighbours' property.
We all hope this will never happen to us. But if it does, are you prepared?
Here are the top 10 rental insurance questions and answers!
01

I'm a tenant, not a homeowner. Why do I need renter's insurance?

Even if you rent your apartment, rental insurance is important. Your landlord's insurance covers the building but not the contents of your apartment, and it doesn't offer you liability protection.

Tenant insurance covers you in case of theft or damage to your property.

After you sign a lease agreement, you're also legally responsible for damages you cause to the building, even if you've already handed over damage deposit money.

Rental insurance will also cover your liability or damage you cause to others or their property. You could, for example, be sued by someone who falls and injures themselves in your home, or if their property is unintentionally damaged by you.
---
02

I'm a student: do I also need rental insurance?

If you're a full-time student, you may be covered by your parent's current home insurance policy. You may only be covered for a limited amount of time and until a certain age, and the coverage may be more limited than a regular rental insurance policy.

Make an inventory of the things you're taking with you to your new apartment and notify your insurance company.
---
03

I live with a roommate. Do I still need my own rental insurance?

If you live with a roommate, then you should find individual coverage. It's a good idea for the roommates to use the same insurance company.

Some insurance companies may allow you to have one joint-property policy that covers all of your combined possessions, but since tenant insurance also covers liability, you'd also be responsible if someone sues your roommate as a result of property damage or injury, for example.

With individual tenant insurance, you're covered for the furniture you own – that's another reason why you're better off each buying individual items of furniture when living together. If some furniture belongs to you both, you'll have to "assign" them to one of you for insurance purposes.

Your roommate may also have more expensive possessions, which could cost more – another reason why it's more advisable to obtain individual rental insurance.
---
04

What if I don't own very much, why should I get rental insurance?

You may not believe you own very much, bu t think about how much it would cost to replace these items if they were damaged or stolen!

Can you imagine the cost of replacing everything you own? Start an inventory and you'll quickly see how fast it adds up.

Don't forget that tenant insurance isn't just for property – it also covers you for liability. If you're unlucky and disaster strikes, rental insurance will give you some peace of mind and financial security at a time you need it most.
---
05

What exactly will my rental insurance cover?

Coverage and limits for losses and damages are different with each company and policy.

Your tenant insurance should at least cover you for both liability (in case someone is injured in your apartment or you cause damage to the building) and property in your home (your material possessions). You may also be able to cover items outside your apartment, such as your bike.

In case of a lawsuit, a standard insurance policy often offers a liability cover for up to $1 million, but you can increase this amount to $2 million.
When you're shopping around for rental insurance, also ask about:
Replacement costs
Coverage limits
Living expenses in case of a disaster
Coverage for theft
Liability limits
Deductibles
Discounts
Pets
What is not covered/limits on reimbursements
---
06

Coverage amount: how do I estimate the value of my things?

There are many ways for you to estimate the value of your things to know what coverage to go for. Insurance companies sometimes have ready-to-go packages with specific coverage amounts.

When you're itemizing your possessions, keep in mind how much it would cost you to replace them at replacement cost, insurance may cost you slightly more, but will also pay out more than just what the items are worth minus depreciation, which may not be enough to replace them.
---
07

How much will it cost?

Tenant insurance is generally not expensive, and could cost you from between $10-30 per month, depending on the deductibles and coverage limits you're looking for.

Just like anything else, you should shop around for rental insurance.
---
08

Where I can I get a good deal for rental insurance?
Always shop around for rental insurance quotes. Many companies will allow you to get quotes online.
Some professional and alumni associations offer discounts, but ask the company directly if they offer any discounts or promotions.
You may need to have some information on hand such as the year the building was constructed, what it is made from, and how much you want to insure your apartment for. It may also simplify things if you have the same insurance company as the landlord and the other tenants in the building in case of a claim.
---
09

What should I look out for in a tenant's insurance policy?

Always read your policy carefully for the fine print. There may be limits for expensive items such as computer and jewellery, so you may want to insure these separately. Some insurance companies may place a coverage limit on some areas or types of buildings.

Often, "acts of God" (floods, lightning, tornadoes, ice storms) are not covered , so if you live in an area prone to these, you may need an additional policy.

If you work from home, you will have to let the insurance company know this so they can cover you adequately. You may get a discount if you need to consider the cost of the equipment that you use.
---
10

What else should I know?
Some companies will also offer identity protection in case of theft.
If you make upgrades to your rental home, let your landlord and insurance company know (keep receipts and photos safe somewhere outside the apartment).
If you adopt a pet, let your insurance company know.
Use a digital camera to take snaps of your property, and keep them in a safe place away from your apartment (in case of fire). Remember to update your list annually!